65% of German retailers don't sell online – Take this opportunity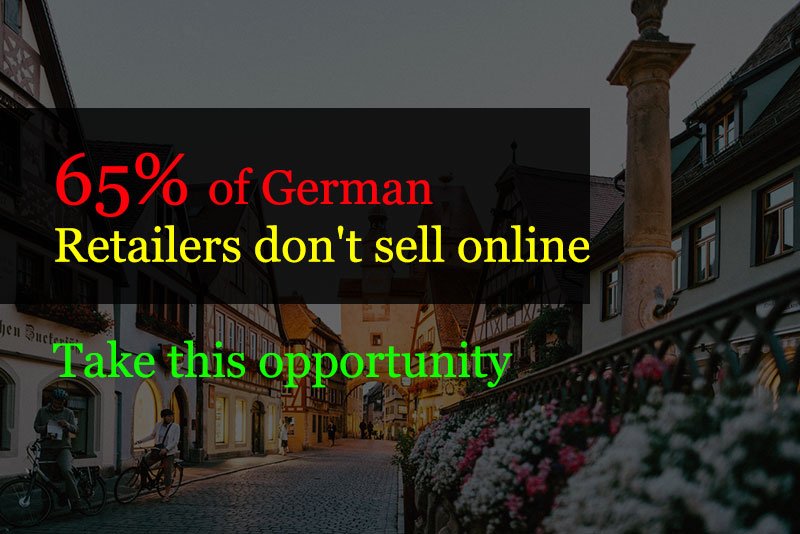 Germany is Europe's largest economy and after Russia, it's also Europe's most populous country. Population 82.79 million (2017). In the eCommerce market, the number of users is expected to amount to 71.4m by 2023 in German. But You become surprised when you hear the recent statistics about eCommerce sellers.
Handelsverbandes Deutschland did a survey among 850 retailers in Germany and found that two out of three retailers in Germany still don't have their online shop and they don't start to sell their products online by the website or social media. They did this survey on grocers, clothing stores and specialists such as jewelers.
In comparison to the situation last year. Ecommerce remains to be the industry's growth driver. The study shows that 65 percent of retailers aren't active with eCommerce. And 26 percent sell online through their own online shop, while 16 percent sell through an online marketplace such as eBay and Amazon.
In 2018 total sales are estimated to have reached USD 109.8 billion, which is a 10% growth compared to 2017. The estimated average spent online per person per year is USD 867. In 2018, Germany had an online population of 72.2 million people who were aged 15 and older.
As a location to start a new eCommerce business, Germany has a lot to offer. Online shopping is a well-established habit of many Germans, and reaching these keen shoppers will be an attractive proposition for any retailer.
Start an eCommerce business in Germany is the best time for a new entrepreneur. The habit of Online shopping for Germans is a well-established. Germany has a lot to offer for new enterprises. Germany is a highly technologized state, most of the public have free access to multiple electronic devices such as smartphones and tablets.
To successful eCommerce business in this country, you have to hire an eCommerce web developer like me to develop a mobile-friendly responsive fast website with clean and clear looks.