Stripe payment gateway integration guideline for non technical guy
Stripe payment gateway integration is one of the premium services that I provide to people like you but everyone like you want to save money in the business as much as possible. For that, I decided to share as a very easy guideline for a non-technical guy how to set up a payment gateway on a website.
Stripe is the most popular payment gateway at eCommerce Entrepreneur. Much biggest company using Stripe for their eCommerce business. Including ASOS, Missguided, Deliveroo, Made.com, and Lush. Millions of people right now using stripe for financial simplicity and secure payment transaction.
In this tutorial, I will cover how to integrate Stripe on your website as a payment gateway. I suppose that you already have a Stripe account. If not then watch this video
https://youtu.be/sOhuE5leA2A
First of all, I like to share with you how to integration Stripe Payment Button (Checkout) on a static HTML template. Not on WordPress or Shopify. This guideline is also helpful for those who want to learn how to integration Stripe Payment Button (Checkout) on a landing page.
1. Log in to your Stripe account, go to Settings and then to the Checkout section.
2. Enable Checkout Integration.
3. Go to Products tab and click on the item for which you want to generate a Payment Button.
4. On the product, site click on Use with checkout.
5. Copy the code generated in the new window.
The generated code for Stripe Checkout Button will be similar to the code shown in the following example: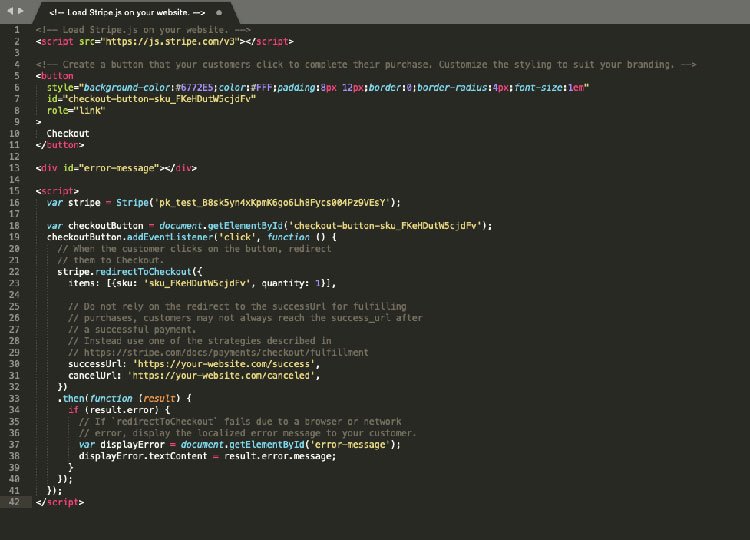 You can change the button appearance by CSS the code. If you are not expert with CSS then Try with free CSS3 button generator
How to Add Stripe Payment Buttons to Pricing Tables in Divi or Elementor Pro
Now I want to show you how to add Stripe payment buttons to  WordPress website build with Divi or Elementor Pro Theme using Stripe Payments for WordPress Plugin.
Let's get started!
To do this I will use Stripe Payments for WordPress plugin by WP Simply Pay.
It allows you to start collecting credit card payment with Stripe using a simple shortcode embed. Though I can create checkout forms and payment buttons manually without the use of the plugin,  since this plugin makes things easy and offers a few convenient features (like payment confirmation and payment failure pages), I thought it was more helpful in the long run.
Let show you by Video: