In today's digital age, a business website is a critical aspect of any company's online presence. However, simply having a website isn't enough. To keep your website running smoothly and effectively, regular website maintenance is essential.
Website maintenance involves a range of activities, from updating software and security measures to optimizing content and monitoring analytics.
By investing in professional website maintenance services, you can ensure that your website remains secure, up-to-date, and user-friendly, giving your business the best chance of success online.
Whether you're a small start-up or a large corporation, website maintenance services can help you stay ahead of the competition and maximize your online potential.
Website Maintenance Service List
Security updates: Regular updates to your website's security software and plugins to protect against hacking and malware.
Content updates: Updating and refreshing website content such as blog posts, product information, and images to keep it relevant and engaging.
Backups: Regular backups of your website's data and files to ensure that you can restore your site in the event of a technical issue.
Speed optimization: Optimizing your website's loading speed to ensure quick page load times, which can improve user experience and search engine rankings.
Mobile optimization: Ensuring your website is optimized for mobile devices to provide an optimal browsing experience for mobile users.
Analytics monitoring: Monitoring website analytics to identify trends, track user behavior, and improve website performance.
Broken link checks: Regularly check for and fix broken links on your website to ensure a smooth user experience and maintain search engine rankings.
Search engine optimization (SEO): Implementing best practices to improve your website's search engine rankings and increase organic traffic.
Technical maintenance: Ongoing maintenance of your website's technical infrastructure, such as hosting, DNS settings, and SSL certificates.
Plugin and theme updates: Keep your website's plugins and themes up-to-date to ensure compatibility with new versions of software and to take advantage of new features.
Spam protection: Implement measures to protect your website from spam comments and forms, which can harm user experience and website security.
Performance monitoring: Monitoring website performance to identify issues and improve site speed and user experience.
DNS and domain management: Managing your website's domain name and DNS settings to ensure they are up-to-date and configured correctly.
Design updates: Updating your website's design to keep it fresh and modern, and to maintain brand consistency.
E-commerce maintenance: Maintaining and updating your e-commerce website, including product information, shopping cart functionality, and payment gateways.
Accessibility updates: Ensure your website is accessible to all users, including those with disabilities, by following accessibility standards and guidelines.
Social media integration: Integrating your website with your social media accounts to help increase engagement and drive traffic.
Website backups and disaster recovery: Creating backups of your website and having a disaster recovery plan in place to minimize downtime and data loss in case of a technical issue.
By investing in these website maintenance services, you can ensure that your website is always functioning at its best and that your users have the best possible experience when visiting your site.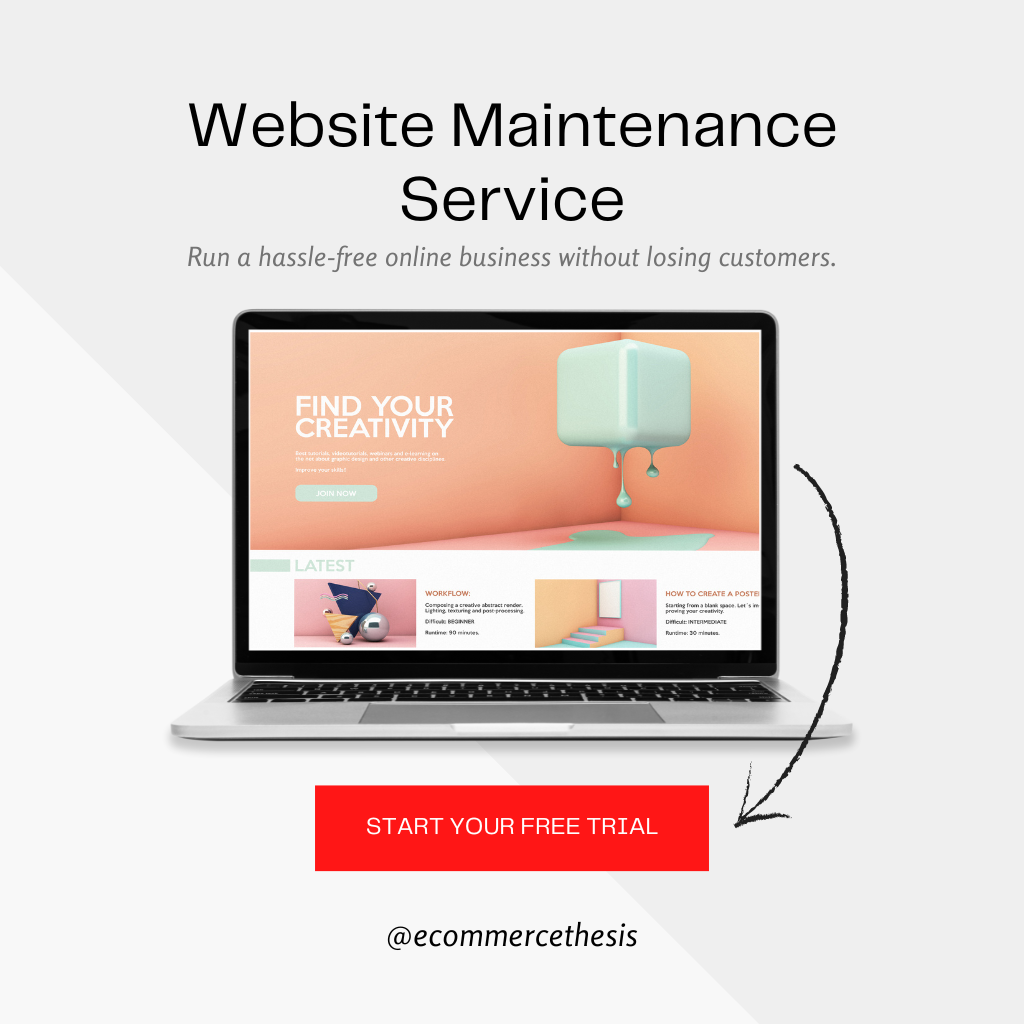 Thank you for filling out this form! We will review your information and get back to you as soon as possible to discuss your website maintenance needs.
Contact us for argent inquiries or Follow our YouTube Channel to get free easy video guideline